Ng Bailey scores success with 'saintly' maintenance services contract win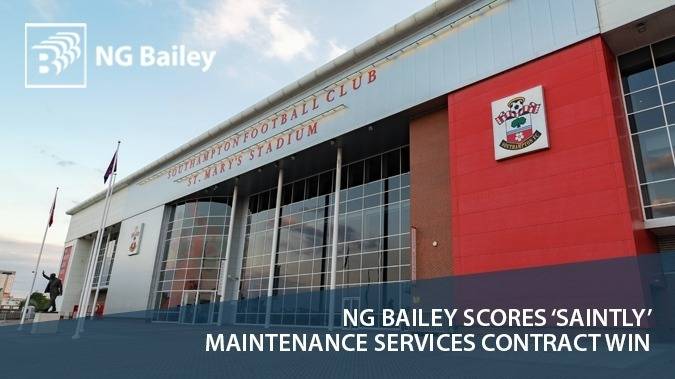 NG Bailey has secured a three-year contract to provide maintenance services for Southampton Football Club.
The contract will see us providing a full range of mechanical, electrical and building fabric maintenance services at St Mary's Stadium and the club's Staplewood training facility.
---
Want to share your news with your industry? Submit a press release.
---
Top 1000 Companies Ranked by Revenue – in Multiple Sectors & Countries.
---
The contract award is part of the club's wider sustainability strategy, which aims to reduce the carbon footprint of their sites and follows a year-long evaluation and competitive tendering process.
As well as St Mary's Stadium, a key part of the contract involves maintaining the club's extensive state-of-the-art Staplewood training facility which is situated on the edge of the New Forest. As well as training areas for the first team and youth team, the facility also features a gym, restaurant, function and seminar areas alongside temperature-controlled rehabilitation and treatment facilities, medical areas and a hydrotherapy pool.
NG Bailey's bespoke flexible approach to building maintenance means problems can be identified sooner and fixed faster; information from building management is also captured and used to improve a building's carbon footprint by reducing energy and water usage.
John Cooper, Operations Director at NG Bailey said: "Maintaining excellence across everything we do is a key principle of our work at NG Bailey and we have a proven track record of delivering complex maintenance projects. We are incredibly proud to be entrusted with taking care of, and enhancing, these facilities. Our team will also be focusing on introducing new working practices and increasing the application of technology to improve the efficiency of the sites through reduction in energy, water and other resources."
Tim Greenwell, the club's Chief Legal & Risk Officer said: "We are excited to welcome NG Bailey to work with us and we are really looking forward to building a long-term partnership with them. Their expertise will allow us to further maintain and improve our sites so that our players, staff and, most importantly, our fans will, in time, start to notice a really positive change. We believe that this relationship will really help us to build the facilities to carry the club forward, assist us in bringing our new sustainability strategy to life and help enhance the experience of everyone visiting St Mary's for matches and other events."