Amtrak accelerates infrastructure work amid pandemic losses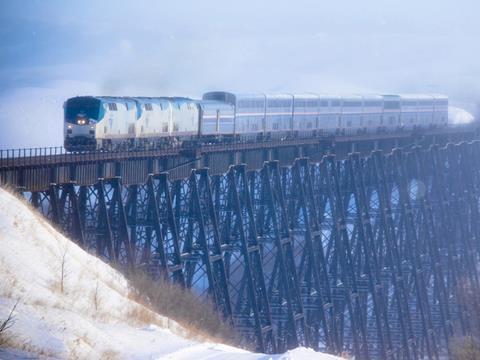 USA: Amtrak has used the coronavirus-induced collapse in demand for travel to push ahead with a number of infrastructure and investment projects, despite posting a loss of $801m for the financial year to September 30.
Operating revenue fell by 32% to $2∙3bn compared to 2019; prior to the onset of the pandemic there had been widespread optimism that Amtrak could record a surplus for the first time in its history in 2020.
Announcing the operator's financial results on November 23, Chairman Tony Coscia said the 'record breaking ridership and revenue performance' before the crisis had demonstrated 'the country's growing need for rail'.
CEO William Flynn reported that at present, Amtrak ridership is steady at about 25% of pre-Covid levels, and — based on current forecasts — ridership and revenue is predicted to improve to about 37% of that level by the end of the 2021 financial year.
Looking ahead, Flynn warned that 'without additional funding for 2021, we will be forced to further reduce service, defer critical capital projects and make more job reductions'.
Nevertheless, Amtrak continues to invest, reporting a capital spend on infrastructure and rolling stock of $1∙9bn for 2020, and completing installation of Positive Train Control on all the routes which it manages.
The company also reported that good progress was being made in the early commissioning of the next generation of Acela Express inter-city trainsets for the Northeast Corridor, with pre-series trainsets completing 32 100 km of test runs at the TTC circuit in Pueblo, Colorado, at speeds up to 263 km/h. Dynamic tests are also underway on the NEC itself, and the Alstom-built Avelia Liberty trainsets are on course to enter revenue service by the end of next year.
Stations and accessibility focus
Amtrak is also forging ahead with major investment in stations, led by its partnership with New York State and NJ Transit to expand Penn Station in New York by redeveloping the former Farley Post Office building as an additional concourse for inter-city passengers.
It has also launched a joint initiative with NJ Transit and the state of New Jersey to refurbish the stations at New Brunswick, Trenton, Princeton Junction, and Elizabeth, while a multilateral partnership has been signed to redevelop Philadelphia's 30th Street station.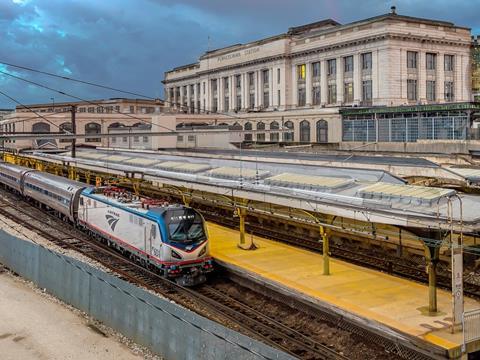 A record $109m was spent on ADA-related accessibility work at more than 159 locations stations across the country; most recently completed were enhancements at Montgomery in West Virginia and Picayune in Mississippi, while a $29m scheme to modernise the station at Homewood in Illinois has started in the past few weeks.
The reduction in train movements this year has allowed Amtrak to accelerate its enhancements programme on those sections of the NEC where it is the infrastructure owner. Concrete slab track, rails and fastenings were all replaced in the notoriously sinuous Baltimore & Potomac tunnel in a single summer possession rather than over two to three years as had been envisaged, while overnight rail flaw detection survey rates increased by 20%. It has also accelerated Lidar mapping of its infrastructure, condensing four months of work into three weeks of continuous measurement.
A newly-developed greenhouse gas emissions calculator will give potential passengers the ability to compare the emissions of rail versus other modes, while Amtrak is working with the National Oceanic & Atmospheric Administration to undertake flood risk mapping of the network. Annual targets have been to set to reduce greenhouse gas emissions, electricity consumption and fuel.
Since 2010, Amtrak says it has reduced emissions by 20% and set a target to achieve a 40% cut in the 2010 baseline by 2030.