Keeping your motorcycle safe and secure this winter – Halfords
The weather's getting colder which can only mean one thing: the end of riding season. Unless you're one of those brave souls who powers through all conditions, it's time to safely pack the motorcycle away, ready to hit the road again in spring.
Whether you've got a shiny new motorbike or spent hours sprucing up an older one, you'll want to keep it safe and secure during its winter hibernation – you never know when an opportunistic thief will try their luck! Follow our tips below and your pride and joy will be securely tucked away for the months ahead.
How to secure your motorbike indoors
Use locks to secure your bike. The optimal security combination is a hardened steel chain with a close shackle lock, secured to a ground anchor with a disc lock on each wheel.
Always lock your frame to an immovable object. If you only secure your bike through the wheel, a thief can simply remove your wheel and help themselves to the rest of your bike. Also secure the bike to something that can't be moved. If you can't find something, a ground anchor is a great solution.
Try to make the lock as difficult to access as possible. This could involve positioning it so that any keyhole is facing downwards, which will make it hard for any thief to attack the lock or tamper with the locking mechanism.
Keep your bike out of sight. If a thief can't see your bike, you're less likely to fall victim to theft. Always try to store your bike indoors and use a motorcycle cover – a thief can't attempt anything if they don't know the bike's there!
Don't just rely on your garage. Even bikes inside a garage should be securely locked.
Motorbike lock options
Picking the correct lock for your motorcycle is important if you want to keep it safe this winter. There are lots of options available, but one of the most important things to consider is the Sold Secure rating or general security rating. These indicate how difficult a lock is to break. With this in mind, let's take a look at all the options.
Chain locks
As the name suggests, chain locks are made up of heavy-duty metal links that are secured by a central shackle. They're very secure anti-theft devices that are great at deterring thieves and are resistant to tampering with saws or cutters.
As they're pretty heavy, they're not a mobile option. However, this robustness makes them a great choice for securing your bike indoors.
The benefits:
Very solid
Flexible
Heavy-duty links
Come in a variety of thicknesses
Perfect for high-crime areas
The drawbacks:
They can be heavy, but this is only a problem if you intend to use the lock once you're out riding again.
Effectiveness depends on thickness and the thicker they are, the heavier they are too – again, not a problem for long term winter storage!
Our picks: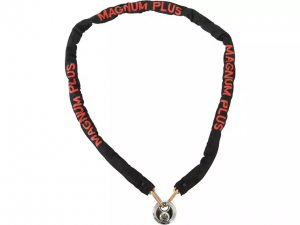 A good entry-level option is the MagnumPlus Rogue Chain, which stands at 1.8 metres long and consists of 8mm hardened steel links. The tight shackle-to-body clearance makes cutting difficult, while the 10mm rotary-style shackle provides a smooth, one-handed operation. The whole lock also comes with an embroidered chain cover to protect your paintwork and finish.
If you're looking for the ultimate level of security for a high crime area, then the Magnum Colossus Chain is the choice for you. Boasting the same length and chain cover as its cheaper cousin, the Colossus consists of massive 12mm titanium reinforced hexagonal links that render hacksaws and bolt cutters virtually useless. The X2P Dual Lock Down Mechanism secures both sides of the shackle for the ultimate pull resistance, while the Z-cylinder is bump-proof and resists picking, pulling or drilling.
The Colossus is a Gold Sold Secure approved lock and one of our top-rated chain locks at 10/10, making it the perfect option for securing your bike indoors.
Shackle locks
Shackle locks consist of a large steel shackle and a base. Not as heavy as chain locks, they're a more portable security option and are generally considered some of the most secure and theft-proof locks on the market.
A variety of shapes and sizes are available, but it's important to choose one that will sit tightly on the frame of your bike while still allowing you to secure your wheel to something solid (e.g. a ground anchor).
The benefits:
Heavy-duty steel bars
Extremely solid
Strongest resistance
Come in all shapes and sizes
Perfect for high-risk areas
The drawbacks:
Rigid shape makes them a little inflexible so make sure you have something appropriate to attach them to.
Our pick: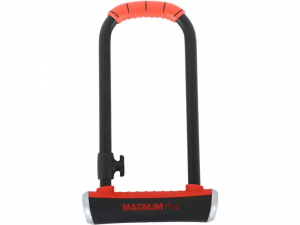 You can't go wrong with the MagnumPlus Gigantes Shackle Lock. This beast provides the ultimate protection in high crime areas thanks to its huge 16.8mm hardened steel TriRadius shackle, which resists all forms of cutting, prying or jacking. Meanwhile, the Quattro Bolt Locking Mechanism secures the shackle on four sides and there's also extra room for more locking options.
The Gigantes is another Gold Sold Secure approved lock so you can be assured it'll keep your bike secured through to spring.
Disc locks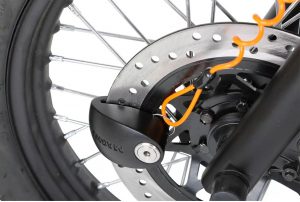 Disc locks are perfect for adding an extra level of security when used alongside other locks. Difficult to remove, the specially shaped lock fits to your disc brake and makes your wheel immobile. Many of them also include loud alarms that will alert you or your neighbours if anyone tries to tamper with the lock.
The benefits:
Extremely compact
Lightweight
Difficult to remove
Many include loud alarms
The drawbacks:
Won't prevent a bike from being wheeled away on the opposite wheel or in a trailer
Our pick: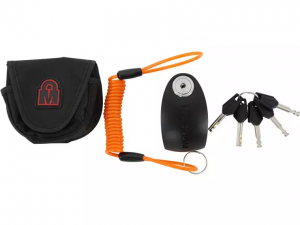 The MagnumPlus Titan is a great option, providing outstanding security in a small and convenient package. The body of the lock is made of a single piece of solid stainless steel, which combines with a 10mm hardened steel pin to offer great protection against drive-off thefts. Other features include a 120dB alarm, shock and movement sensors, and an ice spray-proof body and key barrel.
The lock also comes with its own carrying case, five laser-cut keys and a disc reminder cable to help prevent you from accidentally driving away with the lock still in place – easily done after months without riding!
Ground anchors
Ground anchors are fixed to walls or the floor and act as an immovable object. Great when paired with a heavy-duty chain, ground anchors are the perfect choice when you don't have easy access to something solid to secure your bike to.
The benefits:
Extremely secure
Can be used on the ground or a wall
Perfect for securing your bike at home
The drawbacks:
Need to be used in conjunction with a chain and a lock to attach your bike to the anchor
Our pick: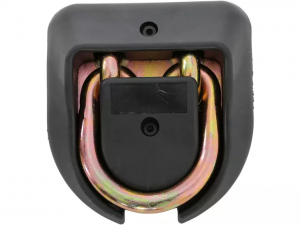 It has to be the MagnumPlus Anchor. This heavy-duty anchor boasts a 16mm hardened steel shackle and a 4-bolt fixing to attach to the ground or wall. The wider design is compatible with all MagnumPlus shackle locks, chains and cables, and it can be laid flat when you don't need it, eliminating any trip hazards.
With Gold Sold Secure approval, you can be safe in the knowledge that the Anchor is one of the best options when it comes to at-home security. Just remember that you'll need to team it with a chain and lock in order to secure your bike.
---
All of the locks we've mentioned here include a lifetime warranty and the option to register the lock codes with the manufacturer in the event that you need a combination reminder or replacement key.
With so many locks available, keeping your bike safely stored away for the cold months ahead couldn't be easier. For other great motorcycle security solutions, accessories and maintenance products, visit Halfords.com.
You want your motorcycle to be kept safe and secure this winter. You want Halfords.