Preston man sets up fundraiser to help feed NHS staff who are working hard in the fight against coronavirus
Graham Thornton, 31, a self-employed ground-worker from Bamber Bridge, has set up a GoFundMe page to help NHS staff during the Covid-19 crisis.
While stuck self-isolating at home, Graham could see the pressure his girlfriend Shannon Caton, 22, an Imaging Department Assistant, was facing on a daily basis at work at Royal Preston Hospital.
To make life for staff a little easier and to help brighten up their day, Graham decided to raise funds to treat staff to a well-deserved takeaway.
Graham said: "I feel like while stuck at home, I would like to do my bit for the staff who are working so hard at Royal Preston during this time.
"I set up the GoFundMe page because my girlfriend works at Royal Preston Hospital so I'm dealing with the stress that she's dealing with at work on a daily basis, and I've had a lot of help through the hospital previously so I'm just wanting to return the favour.
"I had two brain surgeries a few years ago so I know how difficult it is for the staff just on a normal day, let alone with all this going on, so I'm just wanting to make their day a little bit easier."
The GoFundMePage managed to raise £160 on its first day, and Graham's goal is to reach £500 to provide staff with plenty of food to get stuck into.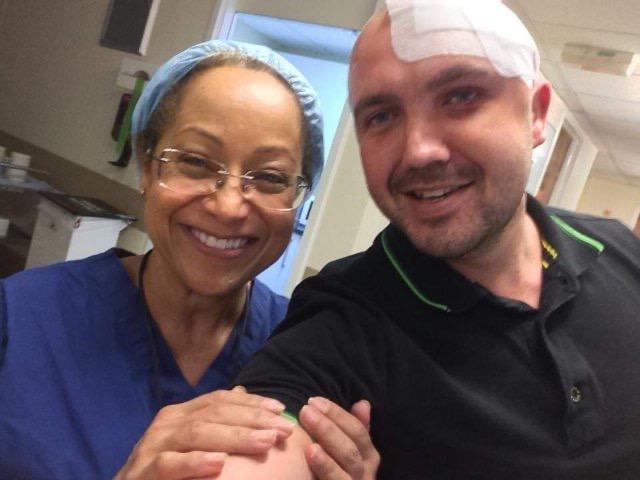 Graham with his neurosurgeon Beth Donaldson after brain surgery at Royal Preston Hospital in 2014. (Photo by Graham Thornton) Copyright: other
Graham added: "It isn't enough for everyone when there are so many staff but I'm sure it will help.
"If everyone could donate a couple of pounds that would be brilliant."
To help Graham reach his £500 goal, you can make a donation by visiting the GoFundMe page by clicking here HERE.Graham's fundraiser is just one of the many ways in which people are showing their appreciation for the work NHS staff do every day.
Prime Minister Boris Johnson announced that 405,000 people had volunteered to help the NHS and vulnerable people on March 25.
Less than 24 hours later more than half a million people signed up for the campaign, bringing the total number of volunteers to a staggering 500,000.
The call to action came from Matt Hancock, the Health Secretary, who initially issued a request for 250,000 people to donate their time to help the 1.5 million vulnerable people who have to self-isolate for 12 weeks.
The Government has increased its target and is now aiming to recruit 750,000 people to help out and slow down the spread of coronavirus.
NHS workers and social care staff will now also be entitled to free car parking.
It comes after 400,000 people signed a petition urging the government to thank NHS workers by scrapping charges.
GP Anthony Gallagher, who began the petition, welcomed the move but said fees should be scrapped permanently.
Matt Hancock said: "I will do everything I can to ensure our dedicated staff have whatever they need during this unprecedented time."