Laviska Shenault: Jaguars select Buffs receiver in second round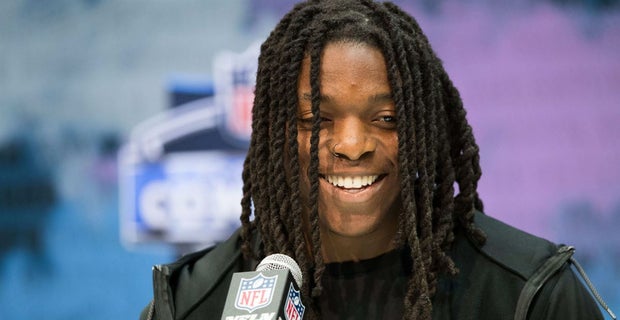 Laviska Shenault Jr.'s injury history clearly scared off some NFL teams, but the versatile Colorado wide receiver was still selected by the Jacksonville Jaguars in the second round with the 42nd pick of the 2020 NFL Draft. He was one of 58 players to participate in the virtual format of the draft broadcast due to the ongoing coronavirus pandemic.
#CUBuffs star Laviska Shenault Jr. is now a Jacksonville Jaguar —> pic.twitter.com/7LWZQV5jnE

— Adam Munsterteiger (@adamcm777) April 25, 2020
Pro Football Focus ranked Shenault as the fourth best player at his position in the draft, yet eight receivers were picked ahead of him.
Shenault battled turf toe, shoulder and core injuries during his time in Boulder. But none of them should be an issue going forward, as he made a quick recovery from the core muscle surgery he went in for following the NFL Combine.
All 32 teams received a letter from Dr. William Meyers regarding the health of #Colorado WR Laviska Shenault, who had core muscle surgery. Per Meyers, he will be 100% by April 25. pic.twitter.com/v5dtOzIsDd

— Ian Rapoport (@RapSheet) April 18, 2020
Despite those injuries, Shenault still left Colorado ranked eighth on the school's all-time receptions list and 11th in receiving yards. Shenault was named the Buffaloes' 2019 season Most Valuable Player. He won the award in 2018 as well, making him the sixth player in school history to be named the team's MVP on multiple occasions.
Laviska Shenault Jr has broken more tackles (44) over the past two seasons than any WR in the Draft.pic.twitter.com/S3o14bEXOc

— PFF Draft (@PFF_College) April 24, 2020
"Laviska Shenault brings a skill set to the NFL that is simply different than every other receiver in this year's draft," Pac-12 Network's Yogi Roth said in an NFL Draft Profile video. "He can line up at wide out and use his size to beat press coverage. He can line up in the slot and use his ability to navigate between the hashes because he is so uncanny for someone as strong as him. And then he can line up as a running back or even a quarterback in the Wildcat and carry the ball in short yardage situations.
"Bottom line, Laviska Shenault is an absolute beast. The only knock on him is his durability, as he was injured during his sophomore and junior years. But none of those injuries seem to be chronic. And when he is healthy, he is a true game-changer. With that size, with that physicality, and with that ability to run the ball and make plays when the ball is in his hands… if Shenault was healthy, in my opinion, he'd be a top 20 pick as his production has never been questioned. I'd expect him to start day one and have a major impact as a rookie in the NFL."
Join the discussion: Inside the Herd message board
Shenault lost his father in a vehicle-pedestrian collision in 2009, when he was 10 years old. Shenault admits he did not know what he wanted to do with his life until he was introduced to football.
"When I was on junior varsity (in high school) and I was doing scout team for the varsity, the players on varsity would say, 'You are going to be great one day,'" he recalled. "From that point on, I just kept working and working and now here I am."
His younger brother Vontae Shenault will carry on his family's legacy at Colorado. A top 50 recruit in Texas in 2019, Vontae redshirted with the Buffaloes last fall.
"He gets to live up to that name with Shenault on his back," Laviska said. "He is going to be a great player, too, especially when he locks on mentally and understands there is something big on the other side. I can't wait to see what he has planned."