Former Bangladesh PM Khaleda tests positive for COVID-19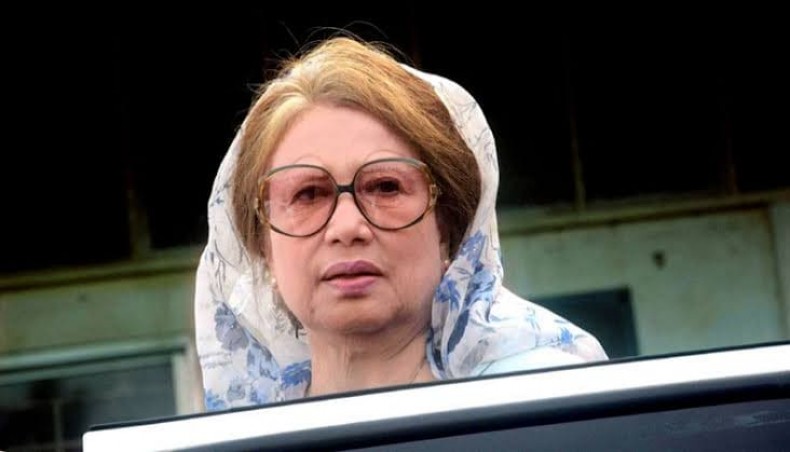 Opposition Bangladesh Nationalist Party chairperson Khaleda Zia, also a former prime minister, has tested positive for COVID-19, said BNP leaders on Sunday.
Khaleda's health condition is stable and she is taking necessary treatment for COVID-19 at home, said BNP secretary general Mirza Fakhrul Islam Alamgir at a press conference at the party chairperson's Gulshan office in Dhaka.
He said that 74-year-old Khaleda's sample was tested at the lab of the International Centre for Diarrheal Disease Research, Bangladesh on Saturday and the report was delivered in the evening.
He said that the BNP chief had no COVID-19 symptoms.
Fakhrul said that a team of physicians led by Professor Dr SM Siddique had already begun Khaleda's treatment.
He urged people of the country and party activists to pray for Khaleda.
Fakhrul said that he would give updates on her health time to time.
One of Khaleda's personal physicians told New Age that the BNP chairperson's personal staff, Fatema Begum, guards and some other members at her Gulshan residence Firoza also tested positive for COVID-19 in the past few days.
Khaleda has been staying at the Gulshan residence since she was released from jail by the government on conditions for six months on an executive order on March 25, 2020 during the novel coronavirus outbreak.
She was initially jailed on February 8, 2018 for five years in the Zia Orphanage Trust graft case.
On October 30, 2018, the High Court doubled her five-year jail term in the case.
Khaleda was released from Bangabandhu Sheikh Mujib Medical University's prison cell on March 25, 2020, suspending her conviction, on conditions that she would take medical treatment from home and would not leave the country.
The time of suspension of her conviction was extended for another six months on September 25, 2020.
The suspension of her conviction was extended for six more months for the third time on March 15, 2021 on the same conditions.
Khaleda was also sentenced for seven years in jail in Zia Charitable Trust graft case on October 29, 2018.
She has been granted interim bail in all but the two cases related to Zia Orphanage Trust and Zia Charitable Trust.
The BNP has termed all the cases against Khaleda as false and fabricated.
When Khaleda's family sought extension of the suspension of her sentence in the past year, they mentioned that she was suffering from severe and uncontrolled rheumatoid arthritis, diabetes mellitus, hypertension, cough-variant asthma and an autoimmune disorder that damages moisture-producing glands making it difficult to produce saliva and tears, with a need for bilateral knee replacement.