What Data Security Cameras Collect | Avast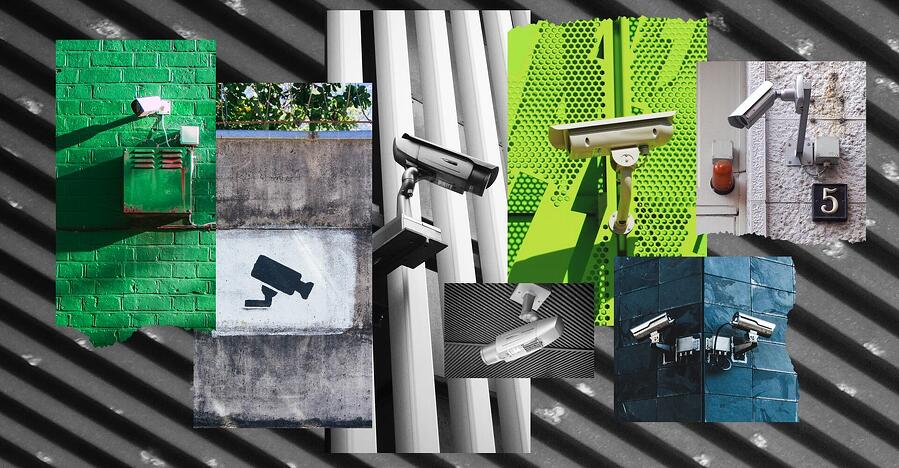 Are you being watched? Find out what data security cameras in your neighborhood collect about you and what they do with it.
When we talk about "surveillance culture" or the "surveillance economy" in the tech world, we're usually talking about digital surveillance. Tracking on social media. Cookies across the web. Data brokers creating "shadow profiles." But this week on What Does the Internet Know About Me?, I want to take a closer look at what happens when old school video surveillance crosses wires with new school digital surveillance.
You're probably aware of the fact that some of your neighbors have home surveillance cameras and systems. That's nothing new, right? I'm pretty sure my parents even got one after our home was burglarized in the '90s.
But the difference between those early home surveillance systems and the ones out there today is the fact that they're hooked up to the internet. So let's take a look at what security cameras in my neighborhood know about me.
What types of surveillance can you expect in your neighborhood?
Obviously every neighborhood is different and is going to have varying levels of surveillance. For example, if you live in public housing you can probably expect that your building has some level of security system that's monitored by the government agency that lets your building. On the other hand, if you live in a neighborhood that's primarily single family homes, you're more likely to be watched by a variety of different private home security systems. And if you have shops in your neighborhood, you might also be surveilled by closed-circuit television (CCTV) cameras or other private security systems. Each of these presents a different potential privacy issue.
"The kind of internet-enabled video surveillance which is prevalent now can have increased privacy risks over more traditional CCTV approaches, because it is more widely adopted by private citizens and thus may appear in new contexts: Where you previously expected to be surveilled in a shop, do you now have to expect it in or outside your friends' homes?" Avast Chief Privacy Officer Shane McNamee says. "They're also often set up in a way that involves the recordings being transmitted to and stored by third parties, on their servers, unlike traditional CCTV setups which normally stored recordings locally and for a limited time."
If we're looking just at private homes, the top 10 home security brands are:
Nest camera
Arlo
Google Nest
Amason Ring
Blink xt2 (blink for home)
Logitech
Reolink Argus 2
Netatmo Welcome
Vantrue N2 Pro
Canary Flex
YI Home Camera
And if we're looking at businesses, the top five security camera brands for small businesses are, according to Google:
Arlo
Swann
Reolink
Panasonic
D-Link Vigilance
Google Nest
What data is collected about me by neighborhood security cameras? Where does it go?
Each brand collects different levels of data and does different things with them, so it's going to be pretty difficult to figure out what exactly is being collected stored in any given neighborhood. For example, some of the popular home surveillance systems are owned by companies that are known to suck up data. (Ring, which is owned by Amazon, is the most obvious and well-known example of this.) Others don't. It's really going to vary from company to company.
All of the companies collect personal info about the owner of the device, both in order to provide the services they paid for and, in some cases, to put into their pool of data about users. They all also record and store video and audio recordings for a set amount of time, based on the owner's preference.
In other words: It's kind of impossible to know exactly what's being recorded and stored about me by my neighbors' security cameras. Additionally, homeowners now post videos of package thieves and attempted home entry to hyperlocal social media sites like Nextdoor, sharing that information to an even broader audience than ever before. And when and if Amazon and other surveillance companies start incorporating facial recognition software into their products, the privacy implications will be massive.
If you live in the EU or the UK, another consideration is that cameras surveilling public spaces — i.e. anything beyond the homeowner's property — might be subject to the GDPR. That means you might have rights to access and even delete that data. You can learn more about how GDPR applies to neighborhood surveillance here.
While most What Does the Internet Know About Me? posts end with me saying whether or not a product is worth the privacy tradeoffs, unfortunately I can't do that here. None of us are in charge of what our neighbors record on or in front of their property — or what they do with those recordings.
What you can do, however, is to start or continue advocating for better privacy regulation across the board, both digital and in person. Let your politicians know that this is an issue you care about and are willing to go to bat for. It's the only way this type of thing is going to change.