How to sell online: OpenCart vs PrestaShop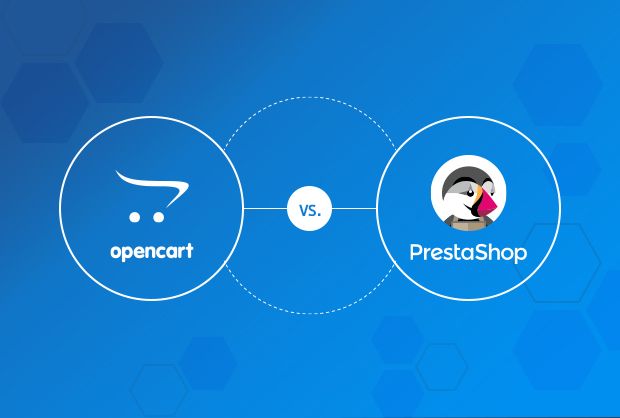 It's long been established that being online is crucial for a company in the modern digital business environment.
Companies moving their sales operations online, rather than via brick-and-mortar shops, has been an ongoing trend since the widespread adoption of the internet. Due to distancing restrictions and retailers getting battered financially, shops that rely on a physical footprint are now closed and may never open again.
Online shopping, even ten years ago, used to be a convenience. Now, however, buying a product at home or on the move with a mobile device second nature – even more so since the ongoing pandemic and the resulting lockdowns.
For businesses, being online offers the lower overheads of not having to rent a building for customers to visit, while not geographically limiting potential customers. Other benefits include being able to be sell products online 24/7, increased flexibility with updates and offers, and customer behaviour analysis with programs like Google Analytics.
eCommerce and lockdown
While most of us were attempting to learn a foreign language, drinking too much wine, or trying to prevent our kids from driving us up the wall, many individuals started their own online businesses during lockdown. While some people undoubtedly already had an idea for a business beforehand, many others were inspired to launch directly because of the pandemic.
Lockdown also represents an excellent opportunity to begin selling online for many established companies that now have spare time.
So whether you're a company looking to go online or an individual making the most of lockdown to build your own little eCommerce empire, establishing an online store opens your business to the world.
Thankfully, starting your own eCommerce site is easier than ever before with affordable platforms. This article compares two popular ones, OpenCart and PrestaShop, to help you pick the best one for you.
OpenCart marketplace
OpenCart is a sturdy PHP-based eCommerce platform that enables businesses to create online shops for little cost. First released in 1999, it offers a quality order processing mechanism, a good cataloguing system, and all the essential basic features a business could need. Though not fantastically high performance compared to similar platforms, OpenCart could be seen as the leading option for a small business or individual.
The advantages of OpenCart
It supports multiple languages
It supports thousands of different modules
It integrates well with the majority of shipping types
It's compatible with virtually all payment gateways
Has excellent technical support
Provides lots of free add-ons
Offers useful analytics via a user-friendly dashboard
The disadvantages of OpenCart
Its checkout process can occasionally be slow
Multiple duplicate pages can cause issues with any SEO efforts
Has scalability issues
Modules and extensions aren't always fully compatible with each other
Need to install a plugin to keep track of of the inventory
PrestaShop marketplace
PrestaShop is a cloud-hosted eCommerce platform. It is open-source and is available in a free and paid version called PrestaShop Ready which comes with extra features. PrestaShop offers strong integration of payment gateways and ten free themes. The platform does require some limited technical skills such as HTML and CSS to operate, however.
The advantages of PrestaShop
Can host itself or be hosted elsewhere
Can increase the loading speed of the website
Many quality apps ready to use
Simple switching between themes
Offers multiple languages and currencies
Highly effective SEO capability
Lots of apps available
Has a large active community which is useful for help
The disadvantages of PrestaShop
Its hosted version doesn't feature multi-channel capabilities
Some of its best modules have to be paid for
Difficult script architecture makes developing the cart problematic for programmers
Complicated to upgrade major versions
Not as fast as OpenCart
Technical skills needed to set up
Key factors when choosing an eCommerce platform
Ease of use
PrestaShop has a user-friendly front office that is easily customisable and add-on modules that can improve its functions. Thanks to its intuitive dashboard, using PrestaShop is easy to pick up.
OpenCart too has a simple interface that ensures that operating the platform is a breeze. No technical knowledge is required.
Speed
The speed of the two eCommerce platforms is approximately the same; therefore the primary factor that dictates how fast it is depends on the CMS and the number of products hosted.
SEO
PrestaShop offers many SEO tools that allow you to improve the visibility of your products.
OpenCart also offers a range of basic SEO features like meta tags, keywords and more. Unfortunately, OpenCart does need a level of technical ability to modify its codebase to work effectively. There are a number of plugins that can improve SEO performance, however.
Customer Service
PrestaShop has a wide-ranging user community that is on hand to answer questions and solve problems via forums. The price is charged as a subscription that lasts a year.
There's a free OpenCart community that can be used for advice or finding a developer. There is also dedicated support that can be purchased on a one-time or monthly basis.
Whichever e-commerce platform suits your business needs, Fasthosts offers it. Click here to see all the popular apps that you can load up on our VPS without the hassle of installation.
---