Top 5 easy-fix legal requirements for your car –
We all know that cars need to have valid insurance, to be taxed and to be registered with the DVLA in order to comply with the law. But they also need to be 'roadworthy', which includes other legal requirements you might not be so familiar with.
You can check all of these requirements yourself, so why not use your time during lockdown to make sure you can be up and legally driving again when things are back to normal?
Here's a rundown of the top 5 legal requirements for your car that you might not be aware of.
1. Tyres
All of your tyres should have the correct air pressure and tread depth.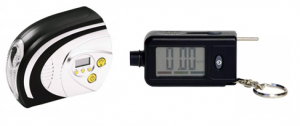 You can find the correct air pressure for your car in the handbook/manual, while a digital tyre-pressure gauge will provide you with accurate readings. If any readings are too low, use a digital tyre-inflator to re-inflate tyres to the correct level. Our guide on checking and re-inflating tyres has some great advice to help you along the way.
The tread depth needs to be 1.6mm (for cars, light vans and light trailers) or 1mm (for motorcycles, large vehicles and passenger-carrying vehicles). There are a couple of options when it comes to checking your tread depth. The simplest is the 20p test, where you place the coin in the main tread channel at various points around your tyre. If you can see the outer band of the coin face at any point then your tyre tread is too shallow. This gives a rough guide to your tread depth, but always get tyres checked out by the experts in our autocentres if you aren't sure.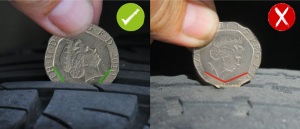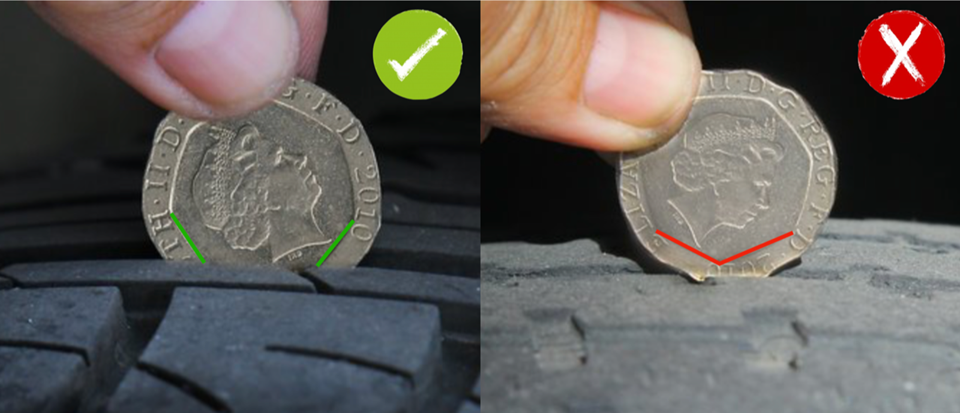 For a more accurate reading, use our digital tread depth gauge. You can learn more about how to care for your tyres in our expert guide to tyre tread depth and safety.
If you need some support with a damaged tyre, then our contactless Tyres on the Drive and Halfords Mobile Experts services bring our talented technicians directly to your home while keeping both them and you safe thanks to our contactless procedure. Alternatively, many of our autocentres remain open during this time and have introduced a range of new processes to keep both customers and colleagues safe. They offer a variety of tyre-related support including puncture repairs and a free tyre check.
2. Bulbs and blades
All of your bulbs and wiper blades should be in working order.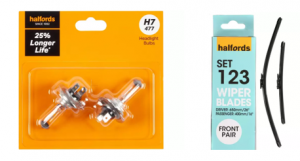 Start by making sure that everything is working as it should. For bulbs, borrow another person in your household to help you, then check that the casings are clean and nothing is impairing any of your beams. For blades, check that the rubber is in good condition (i.e. there are no breaks, cracks or other damage) and that they're nice and clean.
If you do find that any are in need of replacing, then we offer a wide range of bulbs and blades that you can purchase online. You can easily find the right fit for your car by entering your registration details online when prompted, while our car bulb buyers guide and wiper blades buyers guide offer some useful advice to help you narrow down your choice.
We offer a fitting service for bulbs (from £5) and blades (from £3) at both our stores and autocentres, where our technicians will carry out the work from a safe distance.
3. Fluids
All of your fluids should be topped up, including your screen wash.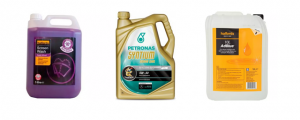 You might be surprised, but it's a legal requirement to have some kind of fluid in your screen washer bottle at all times. It doesn't have to be screen wash – water is okay – but if you want to keep your window squeaky clean then we would recommend using screen wash as it contains detergents to clean your windscreen.
An engine oil check is simple and takes just seconds, and it could save your engine if it's dangerously low. If your oil level has dropped, check for leaks in the engine bay and on the ground which could point to something more serious.
Our mobile and in-store technicians are happy to top up your oil, or if you don't mind getting your hands dirty then an oil change is simple driveway DIY car repair that almost anyone can do. Just enter your vehicle registration number at Halfords.com to find the perfect oil type for your car.
We also offer AdBlue for diesel engines, to help you keep your pollution levels down and your car moving.
4. Mirror glass
Both of your wing mirrors should have glass.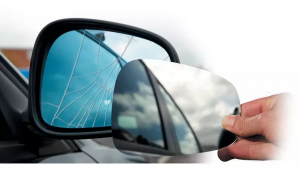 A quick glance should be enough to see if the glass in your car wing mirrors is clean and unbroken. If you find that you need a replacement, simply enter your vehicle registration number online to find a hassle-free, stick-on solution that our expert fitters can install for you or you can choose to install yourself.
5. Number plates
Your number plate must be present and legible.

This as easy fix, whether your number plate needs a quick clean or replacing. If it's the latter then check out our Number Plates Builder, which allows you to specify your exact requirements. In addition, it's a good idea to have a read of our guide to number plates, which takes you through exactly what's legal and what's not when it comes to things like font and logos.
We also offer a range of number plate accessories and a number plate fitting service from £5.00.
Our talented mobile, in-store and autocentre technicians are ready to lend a hand with any of these five requirements and more, including a number of free checks to keep you moving. Our new safety procedures mean that we can continue to offer our fitting service for any products that are outside of the car, while we're also on-hand to carry out those all-important MOTs.
While we know that the government has granted a temporary MOT extension during the current lockdown, we don't want you to fall victim to the mythical 'grace period' or be stuck in a long queue once normal service resumes and everyone takes their cars in.
Book your MOT today and ensure that you have a roadworthy car when you need it!