Our top tips for cycling to work – Halfords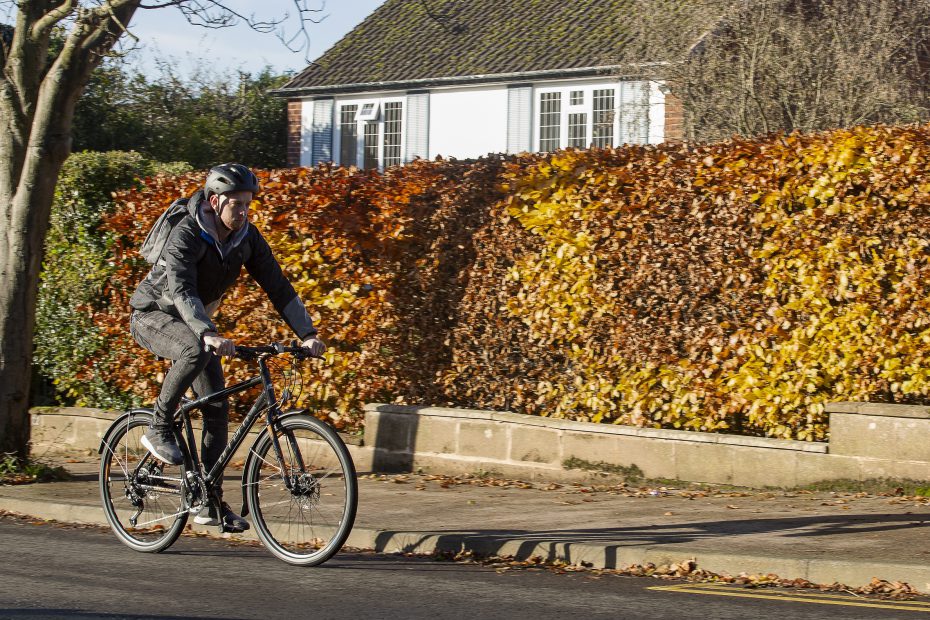 Commuting by bike is more popular than ever, and with government initiatives to boost the uptake of cycling, there has never been a better time to saddle up and change to a two-wheeled commute.
If you've been toying with the idea of cycling to work, we've listed our top five tips to help you get started.
First things first
You're going to need a bike!
From folding to electric, there are lots of options, and which you choose will depend on the type of riding you will be doing on your commute. Don't worry, though, as picking the perfect bike is easy and we've created a bike buyers guide to help.
If you've already got a bike tucked away in the garage, it's a good idea to check that it's in a safe condition. Before riding, book our Free Bike Health Check and ride your bike safe in the knowledge that it's been professionally checked.
And if you don't have a bike or are looking to upgrade, don't forget to take a look at the Cycle2Work scheme! You may be eligible to save up to 42% on a brand new bike through your employer; check out our Cycle2Work site for more info.
Wear the right things
When it comes to what to wear, don't think you need to go all out with the lycra. These garments have their place and can certainly make cycling distances more pleasant, but if you're not going too far or are planning on taking it easy, anything goes!
Take inspiration from our Dutch neighbours and go casual. Wear something you can move in but other than that feel free to throw caution to the wind. And yes, cycling in jeans is ok! Take a look at our Cycle clothing buyers guide to discover more.
Something we highly recommend is a helmet. It's not law to wear one, but if anything happens you'll be thankful you had it! And if you're worried about helmet hair, a spritz of dry shampoo will sort those tresses out in seconds.
You will find everything you need over on our bike accessories page.
Always be prepared!
If you've not cycled to work before, it's a must to plan your route before you set out. You could even do a dry run on the weekend. The best route to cycle may not necessarily be the route you'd travel by car or public transport. We advise looking for a route that doesn't have too much traffic, at least until you've built up your confidence and experience on the road. Many towns and cities have extensive networks of cycle lanes and, in London, highways, so take advantage of these.
It's also a must to check out what facilities your workplace provides; is there somewhere to securely store your bike? If you've built up a sweat, can you cool off under a shower or at least get changed somewhere? It's easy to overlook until you turn up at work and realise your bike is going to have to be propped up against your desk all day!
Slowly does it
We wouldn't necessarily recommend jumping straight into cycling to work every single day – that's a recipe for some achy muscles.
Start slowly and increase your mileage each fortnight or when you feel you're ready – it doesn't matter if it takes you two weeks or six! Start off with a commitment to ride to work between one and three times a week and only consider adding more days once you're consistently hitting your goal.
Have fun!
Above all, enjoy it! It's so easy to find enjoyment in cycling, whether it's discovering new nooks and crannies of your hometown, feeling the sun on your skin, or revelling in how much money you're saving and how fit you're becoming.
---
What are you waiting for? Prepare for a commute on two wheels and enjoy a stress-free, energy-boosting journey to work. Want to learn more about cycling? Visit our cycling help and advice guides for everything you need to know. For all your cycling needs, head over to Halfords.com.
You want an energy-boosting commute to work, you want Halfords!