Great Gifts for Kids – Halfords
It only seems like yesterday that your little ones were excitedly ripping open their presents, desperate to see what Santa had brought them. Now it's that time of year again, and with it comes the yearly conundrum, what to get the kids?
Luckily, we've got all your Christmas needs covered with our fantastic range of gift ideas. From balance bikes and mountain bikes through to stunt scooters, there will be some sparkly eyes on Christmas morning this year.
So, what are you waiting for? Let's find that perfect Christmas gift.
Trunki Folding Balance Bike – 10" & 12", Ages 3-5
What better gift this Christmas than giving your little one the chance to explore on two wheels for the first time – and the perfect way to do it is with the Trunki Folding Balance Bike.
Available in either blue or pink and suitable for children aged between three and five, the bike is perfect for developing balance and coordination while remaining simple to control.
A gem of a balance bike, the Trunki has a unique folding mechanism which allows you to easily fold and carry it, meaning you can take it with you on all your adventures!
Learning to ride can be tiring work and the included carry strap gives your kid some much-needed rest as you can tow them along. It also allows you to carry the bike over your shoulder after the school run.
Exclusive to Halfords, you won't find the bike anywhere else, and we have a range of cool helmets, stabilisers and other accessories that'll help make this Christmas magical!
You can learn more about the benefits of balance bikes here. Shop our full range of balance bikes over at Halfords.com.
Motobike MX12 Kids Bike – 12", Ages 3-5
If you've got a wannabe motocross rider on your hands, there's no better present than the Motobike MX12 Kids Bike.
With a cool design and removable stabilisers, the bike has everything needed to whizz safely around at record-breaking speeds! Also available in a 16" version, the Motobike will easily keep your child entertained all the way through to next Christmas!
Why not help your little one look the part too? Add the Motobike MXR250 Full Face Kids Bike Helmet and the Halfords Essential Kids Motobike Noise Maker and your child will look and sound like a proper racer.
Wave the chequered flag and away they'll go!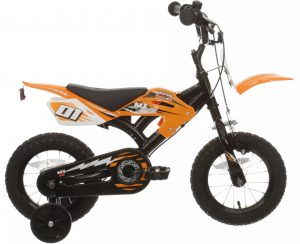 Apollo Twinkles Unicorn Kids Bike – 14", Ages 4-6
Make Christmas truly magical with the Apollo Twinkles Unicorn Kids Bike.
Every ride your little one makes will be accompanied by Twinkles the Unicorn – learning to ride has never been so fun! Plus, the bike has everything needed for a safe ride, including reliable front and rear caliper brakes, and removable stabilisers that can be easily detached as confidence on the bike grows.
As there's no such thing as too many unicorns, we even have a unicorn inspired Apollo Twinkles Bike Bell and an Apollo Twinkles Kids Helmet to complete the cool look.
If your little one's more into monsters than unicorns, then they need the Apollo Monsterz Kids Bike. With an insulated lunch bag connected to the handlebar, the bike also comes with a magnetic chainguard and a cool section of magnets that allow you to decorate and customise the design. It's a great choice for those little monsters who love an adventure!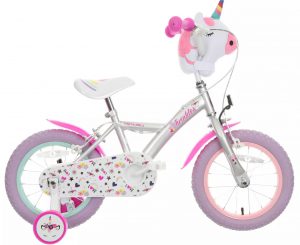 Apollo Firecracker Kids Bike – 16", Ages 5-7

With a cool, fiery design, the Apollo Firecracker Kids Bike is sure to receive some excited gasps when it's unwrapped this Christmas.
Ready for endless fun, the bike comes with an innovative speedometer that lights up and makes revving noises. Available in either blue or pink, the bike is exclusive to Halfords and is a must-have Christmas gift.
To make sure your little one is safe on their bike, why not add the Blue Flames Kids Helmet or the pink Kids Bike Helmet? You can also add the perfect finishing touch with the blue or pink Halfords Essential Kids Bike Valve Cap Lights.
We have lots of great kids bikes for Christmas, and you can find more options here.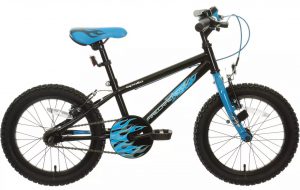 X-Rated Shockwave Kids BMX Bike – 20", Ages 6-9
For those two-wheeled tricksters out there, look no further than the X-Rated Shockwave Kids BMX Bike.
Designed with features found on full-size BMX bikes, the Shockwave has a sturdy frame that is tough and responsive. It also features front and rear V-brakes for reliable braking. With such a cool bike, it's no surprise that this is one of our bestsellers! We even have a 16" version for those mini tricksters aged five to seven.
Why not also slip some kids safety accessories under the Christmas Tree? The Halfords Crackle Kids Skate Helmet has a hardwearing ABS shell with inner padding for safety and comfort. Plus, it looks great! Another great option is the X-Rated Pad Set. Featuring knee, elbow and wrist guards, it will help protect your little one as they push the boundaries of their BMXing ability!
You can explore our full range of kids BMX bikes here.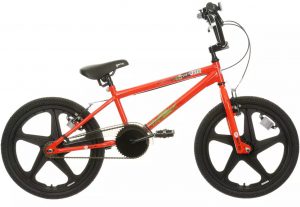 Apollo Vortice Junior Hybrid Bike – 24", Ages 8-11
The Apollo Vortice Junior Hybrid Bike is great for those soon-to-be teenagers who have outgrown their old bikes.
Ideal for going on adventures with their friends, the Vortice has everything needed to enjoy riding on cycle paths, or for the more adventurous, even off-road. Its 18-speed Shimano gearing makes riding up hills a breeze and is swift when racing on the flat.
To find many more junior bikes, head over to Halfords.com.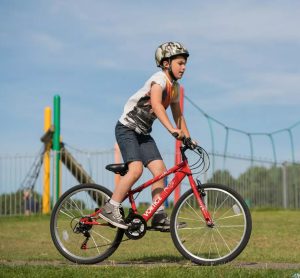 Trunki Small Folding Kids Scooter
The Trunki folding scooter looks like a lot of fun and it is! With bright colours and three wheels for extra stability, Trunki design scooters with adventurous families in mind. The lightweight frame makes it easy to learn on and easy for you to carry when little legs get tired.
There's lots of opportunity to improve balance and build coordination with the learn to steer functionality. And, after a hard days scooting, the carry strap allows for some much-needed towing.
A lovely gift for Christmas, there's also a larger option for those who have outgrown their small Trunki, with both sizes available in either blue or pink. Find out more about our range of Trunki scooters and bikes here.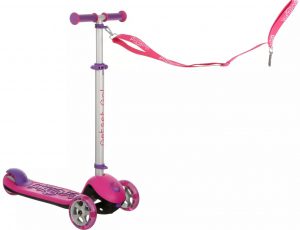 Mini Micro Classic Pink Kids Scooter
If you're keen to go on more outdoor adventures with your little one, then the Mini Micro Classic Pink Kids Scooter will help.
With a lightweight frame, non-slip footplate and soft plastic grips, the Micro is an award-winning scooter.
The Micro Brand have a reputation for creating high-quality scooters with the aim of inspiring children to head out into the great outdoors. They also have lots of great accessories, with the Micro Floral Dot Helmet Deluxe and the Micro Floral Dot Bell providing a cool, coordinated look – great for all adventures!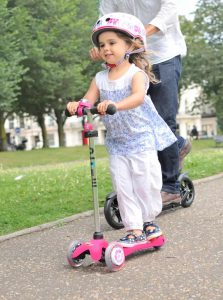 Invert FS2 Stunt Scooter
Ready for lots of tricks? We have lots of stunt scooters that will make great gifts for Christmas. The Invert FS2 Stunt Scooter is one of the best and will help rip-up the skatepark and destroy the competition.
It has a stunning jet fuel finish that will definitely turn heads. It's also strong and can withstand plenty of failed tricks thanks to its reinforced steel fork construction and 25mm grind rails.
Every scooting trickster falls off now and again, but if they're wearing one of our stylish helmets and our X-Rated Pad Set, they'll quickly bounce back up.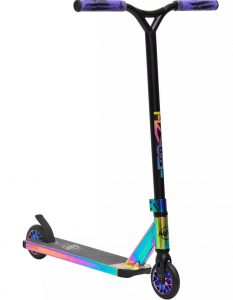 ---
Bikes, scooters, accessories – Santa's going to be busy this year! The fun doesn't stop there, though, and you can find lots more Christmas gift inspiration over at Halfords.com.
Spread the joy this Christmas by sharing snaps of your Christmas gifts with us on Instagram using #ReadyFor and Twitter @Halfords_UK.
You want the perfect gifts this Christmas. You want Halfords.