Credit One Bank American Express® Credit Card Limited Time Offer
At Experian, one of our priorities is consumer credit and finance education. This post may contain links and references to one or more of our partners, but we provide an objective view to help you make the best decisions. For more information, see our Editorial Policy.
In this article:
American Express credit cards are known for their excellent rewards and perks, but those benefits are often reserved for people with good credit and can be hard to access by people with lower scores.
With the Credit One Bank American Express® Credit Card, consumers can access certain Amex perks without requiring top-tier credit. While it's issued by Credit One Bank, this card uses the American Express payment network and gives cardholders access to a selection of premium features.
Credit One Bank American Express® Credit Card
® Credit Card wrapper">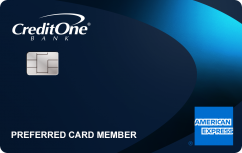 Apply
on Credit One Bank's website
Terms Apply
Recommended FICO® Score☉
Fair – Good
23.99% Variable
Intro APR: N/A
1%
cash back on All Purchases
Card Details
Earn unlimited 1% cash back rewards on all purchases, terms apply
$0 Fraud Liability ensures you won't be responsible for unauthorized charges
Retail Protection covers you if an eligible item is accidentally damaged or stolen, terms apply
Get deals on shopping, dining, travel, and entertainment through Amex Offers
Enjoy exclusive access to pre-sale tickets for some of the hottest nationwide concerts and events
Know you're covered when the unexpected happens while traveling with Travel Accident Insurance, terms apply
If you are a Covered Borrower under the Military Lending Act, you may get a different offer
What Is the Credit One Bank American Express® Credit Card?
Credit One Bank specializes in providing credit cards to people with less-than-perfect credit. Their offerings may give people with fair to good credit an opportunity to get cards that offer lucrative rewards and benefits.
Because it uses the American Express payment network, this card offers access to certain American Express benefits, such as purchase/return protections, travel discounts and insurance, and select perks through Amex Offers. Keep in mind that you can only use it with merchants or services that accept American Express as a payment option—but this number has climbed in recent years, so acceptance should be less of a concern.
Access the Exclusive Amex Offers Program
One of the attractive aspects of having an American Express card is access to Amex Offers, a program that gives discounts and rewards for purchases made with certain companies. The Amex Offers program includes restaurants, retailers and even online services, and is unlocked when you use your American Express card to purchase products or services from those companies.
With the Credit One Bank American Express® Credit Card, you gain access to certain perks through Amex Offers without having to be approved for a card directly issued by American Express. This advantage allows cardholders with fair or good credit to benefit from the valuable offers that might otherwise be out of reach.
Once you have the Credit One Bank American Express® Credit Card, you can access Amex Offers by going to a special page on American Express's website and entering your information. The offers you select will be added to your account, and any benefit associated with the offer will be added to your card after you satisfy the spending requirements.
Complimentary One-Year Subscription to Calm Premium
For a limited time, this card is also offering new and existing cardholders a one-year subscription to Calm Premium. Calm is a popular sleep and meditation app, said to help improve sleep and aid in relaxation. The premium membership is typically $69.99 per year, and gives full access to Calm's music, master classes, guided meditation and more.
For eligible cardholders, this offer includes a complimentary year of Calm Premium, plus 50% off the second year upon automatic renewal. This offer is available to new and existing Credit One Bank American Express® Credit Card holders that don't already have a Calm Premium membership.
If you have an existing Calm Premium membership, you can still receive the 50% discount off your second year membership dues with the Credit One Bank American Express® Credit Card. To take advantage of this offer, you have to sign up by September 30, 2020.
Additional American Express Card Benefits
In addition to access to Amex Offers and the limited-time Calm Premium subscription offer, the Credit One Bank American Express® Credit Card comes with other core benefits that make this a superior card for people with fair credit.
The following is a list of all the perks not already mentioned that come with this card:
Unlimited 1% cashback on all eligible purchases (terms may apply)
Low annual fee of $39 per year
Extended warranty, return and retail protections for purchases made with your card
Travel benefits including:

Up to 10% off on Delta Air Lines flights
Travel accident insurance
Car rental loss and damage insurance
Special rates on vacation packages and car rentals
Some of these benefits are unique to American Express and have specific terms and conditions.
Access American Express Benefits With Fair Credit
If you're someone with a fair or good credit score, the Credit One Bank American Express® Credit Card could be a good way to gain access to valuable rewards now. As your credit improves, you can consider applying for additional reward cards, but this card—with its access to certain American Express benefits—should allow you to benefit in the interim.
If you aren't sure what your credit is but want to apply for a new credit card, consider getting a free copy of your credit report and check your credit scores through Experian so you can see what a lender will consider when evaluating your application. Experian also offers free credit monitoring, which can alert you to changes in your credit report, scores and potential fraud.
---