Whole Earth offers sparkling deals for FS operators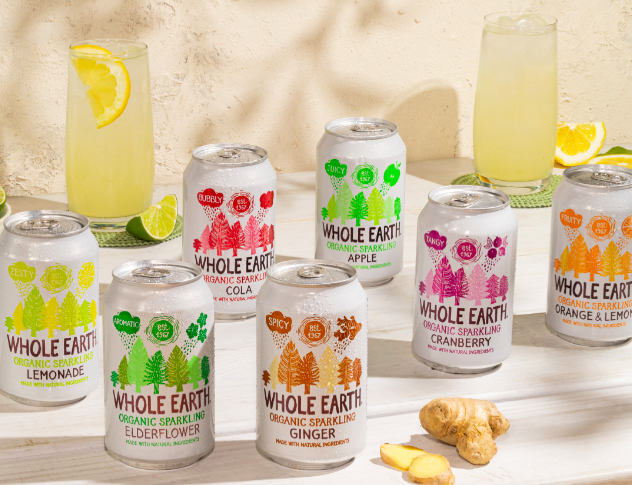 Whole Earth, the natural food brand owned by Ecotone UK, is offering a range of attractive deals from now until June to support the hospitality sector coming out of lockdown.
Whole Earth's delicious range of Organic Sparkling Drinks include popular variants such as Ginger, Cola, Elderflower and Cranberry, offering a choice of quality, refreshing soft drinks that are ideal for the summer season.
Aligned with the brand's commitment 'good for you, good for the Earth', the drinks are made with no refined sugars and are naturally sweetened with fruit juice. With 62% of customers choosing soft drinks with no-added sugar, Whole Earth's range is well placed to satisfy this trend.
Whole Earth is B Corp certified with a strong commitment to the environment. Not only are the drinks made using natural ingredients and processes, each 330ml can is also fully recyclable.
The premium, natural drinks are made with organic ingredients which are certified by the Soil Association and sourced from suppliers that use more sustainable farming methods.
Adam Perry, Foodservice Channel Controller at Ecotone UK, said, "As the hospitality sector starts to reopen, now is the ideal time to start thinking about stocking up fridges with enticing product to attract consumers.
'People are becoming more discerning in the soft drinks category, seeking out brands and products that are healthier for them while being better for the planet too.
'We can tick both boxes with our Whole Earth sparkling drinks range from a trusted brand well known for organic, quality and premium products. Demand for soft drinks has soared in the last year – a category now worth £38bn, presenting a key opportunity for foodservice operators to tap into."
Whole Earth is an official supplier to the Tokyo Olympic Games and is working with a series of four Team GB Athlete Ambassadors, including Gold medal hopeful Helen Glover, to increase brand visibility in 2021.
Whole Earth, along with brand owner Ecotone UK, is B Corp certified and committed having a positive societal and environmental impact.