London Bridge Rooftop back for spring & summer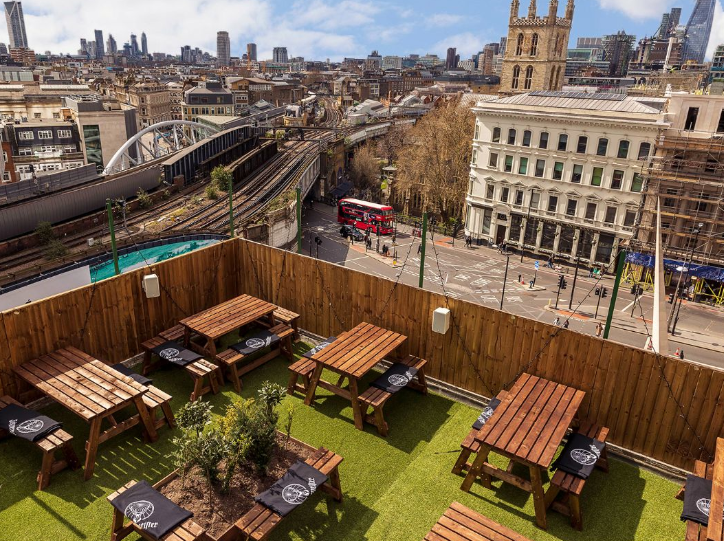 The 200-cover all-day canteen with a rooftop terrace, London Bridge Rooftop is opening for spring and summer.
Opening as a casual urban rooftop bar in the heart of London Bridge, all week long Londoners can enjoy after-work drinks, sunset cocktails, banging burgers, lunchtime pints, DJs and stay all night catch-ups.
Perched on top of a 70s-style brutalist office block building six stories high, the grey concrete of the rooftop mingles with fairy lights and green plants to create a cool urban hang out in the city.
The rooftop has been transformed into the perfect destination for groups of up to six to catch up, while still keeping safe in compliance with the government road map and Covid regulations.
The venue will be open from midday until late daily. Tables will be available for reservation online with walk-ins welcomed depending on availability. It will be table service and accepting card-only payments. The bar team will then be delivering the drinks straight to tables.
The burgers will be made by our highly experienced team led by head chef Sebastian Cooke, who has been cooking up the best burgers around the UK for years.
He's has been cooking professionally for 10 years and even cooked for a few royals. After pulling a Megxit and falling into the indie burger scene he hasn't looked back since with stints around London and then refining his skills as Exec Chef for Le Bun burgers.
Menu items include:
> The Maple Bacon: Ginger Pig aged beef patty, Ginger Pig maple bacon, double American cheese, pink onion pickles, confit beer onions, signature sauce on a warm sesame seed potato bun

> Vegan Royale: VG patty, VG cheese, signature sauce, pink onion pickles, crispy shallots on a warm sesame seed potato bun
Specials

Aperol Sundays
This is London's newest contender for the most fun to have on a Sunday. DJs, views and £5 Aperol cocktails from 12 till 4pm every Sunday. Closing at 11pm.
WGTLDN X LBRT Rooftop Brunches
We Got This and London Bridge Rooftop bottomless brunches will begin on May 8th from 11.30 till 3.30pm every Saturday. Full announcements next week.
Co-owner James Stell said, 'After a difficult year for everyone, we are excited to be part of what is set to be one of the best summers that London has ever had. It's time to reconnect safely, catch up, and have good times again.
'We will be starting with tables of up to six on April 17th and expanding to tables of up to thirty when Government guidelines allow. With the Olympics and Euros coming in the summer, we can't wait to welcome everyone up to the rooftop'.