LAUNCHING THE PAUL POGBA-BRANDED "PLAYGROUND OF POSSIBILITIES" – A SYMBOL OF THE PLAYER'S LEGACY IN ROISSY-EN-BRIE
A matter of days before the UEFA EURO 2020TM kicks off and as part of the adidas Football Collective movement, the brand has launched a five-a-side football pitch in Roissy-en-Brie. Created in collaboration with Paul Pogba, it reflects the legacy of the French player in his home town and aims to be a symbol of inspiration for the next generation. Opening today, the playground has been built for for local communities and associations, encouraging the young people of Seine-et-Marne department to share and create social cohesion, and encourage them to practice a more inclusive and fair game.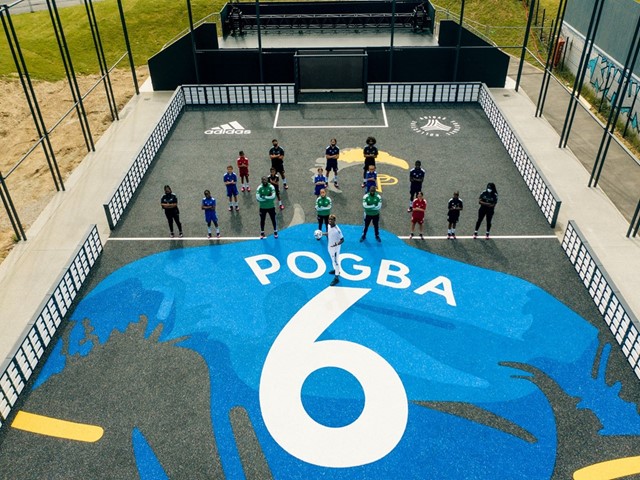 A playground of possibilities
Three years after the launch of the ZZ (Zinédine Zidane) playground near the Stade de France, adidas is continuing its mission to make sport accessible to all. The playground has been created in Pogba's unique style – a real symbol of the his legacy in the neighbourhood where he grew up – with the aim to pass on the same passion that led Paul to being a world champion, to new generations.
I am truly honoured and proud to inaugurate this beautiful playground in my home town, Roissy-en-Brie! I can see myself 20 years ago, here, playing football with my friends.

I would have loved to have had access to this playing field, and I am genuinely convinced that it will inspire new generations. While some will see it as the construction of a simple playground, I can see a pitch offering infinite possibilities.

Paul Pogba
A responsible playground
Besides its extraordinary design, this new playing field is unique in France due to its responsible manufacturing. It was indeed made with 62% recycled material. Its composition:
3 tons of non-recycled rubber materials

5 tons of recycled rubber including:

3.5 tons of recycled rubber (non-adidas – post-industrial car waste)
1.5 tons of rubber from recycled adidas shoes
A theatre of entertainment during the UEFA EURO 2020TM
Numerous events will take place during the UEFA EURO 2020TM including concerts or the participation of artists who love football, such as Dinos Maes, Doria or Momsii. They wanted to provide their support to the initiative and the collectives involved. Furthermore, with the aim of sharing knowledge and values, the adidas Football Collective, made up of: Le Monde FC, RDR Switch, Graines de Footballeuses, Cacahuètes Sluts, A Cœur Ouvert, FC Gerland and local associations will take over the playground. Tournament games will be broadcast at the playground to allow young people to witness the highlights of the competition together. Finally, the playground will host its own football tournaments.