Meet our champions: Jack Jarman and Athina Vasileiou – Wilson Vale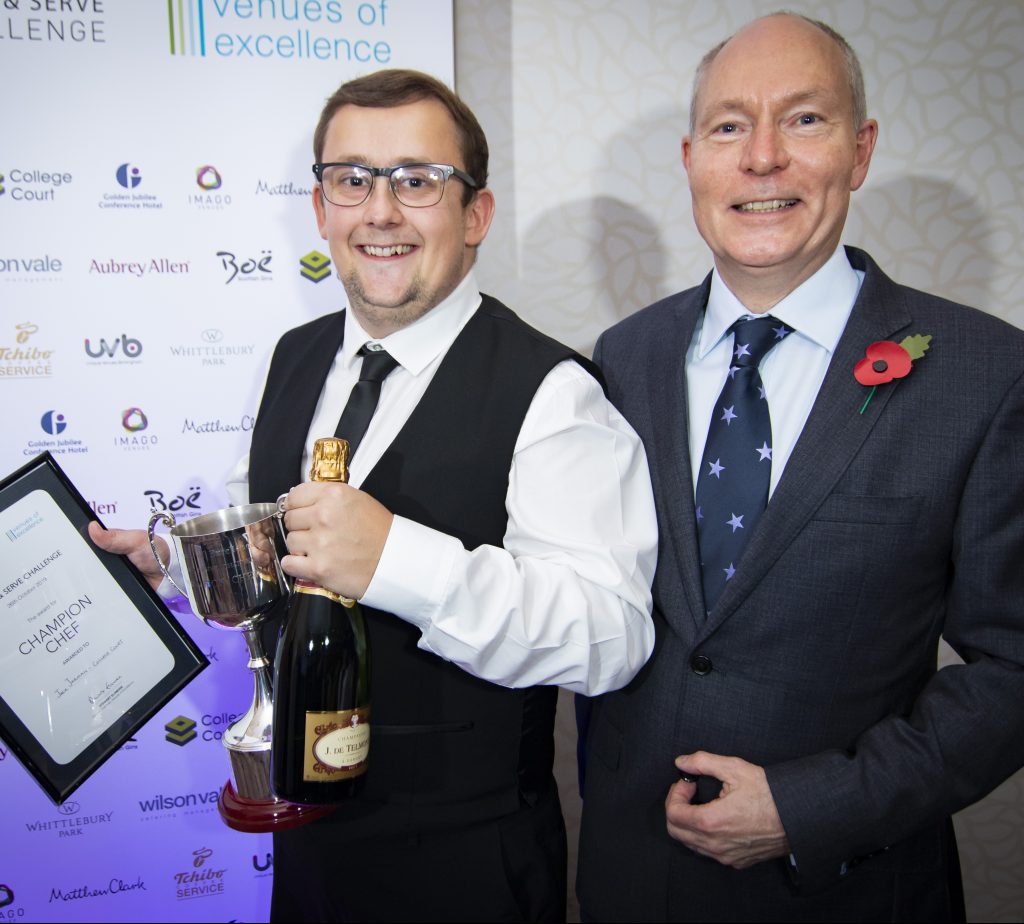 Head chef, Jack Jarman and food &beverage manager, Athina Vasileiou walked away with the titles 'Chef Champion' and 'Service Champion' at the recent Venues of Excellence's 'Cook and Serve Challenge' 2019.
Jack has worked for us at College Court for over two years and now leads a brigade of ten at this award-winning venue. The catering operation is full-on, with a typical day seeing the team providing a breakfast, lunch and hospitality service for up to 200 delegates and a fine dining evening event for up to 100. Unlike most contract catering operations, College Court also caters for weddings and other weekend and evening functions so Jack and his team are kept on their toes.
27-year-old Jack has come full circle as his culinary career started when he won 'Chef of the Year' at Leicester College while doing his NVQs. One of the judges was Paul Leary, chef proprietor of The Woodhouse in Woodhouse Eaves, who was quick to spot Jack's talent. He immediately offered him a job at his two AA Rosettes pub.
Although only sixteen, Jack accepted the challenge and left home to live above the pub.
Jack really honed his craft skills at The Woodhouse and the experience ignited his love and interest in cooking. He also learned some important life lessons such as not washing his whites in a mixed wash as he ended up with pinks instead!
"I'm colour blind, so I didn't even know they were pink until I walked into the kitchen. Then I knew!" said Jack.
He survived the ribbing and subsequently went on to work his way up the ranks, gaining experience in golf clubs and gastro pubs until joining us at College Court.
On the day of the Cook and Serve Challenge, Jack reports that everything went to plan. He was up against 14 other teams but he had a clear vision of the style of food he wanted to make – simple yet classic French-style with a modern twist – and he chose his ingredients wisely.
Jack had also entered last year's challenge and took Best Main Course in 2018 so he felt calm and collected, knowing what to expect. It was still a surprise though when his named was called out as Champion Chef.
"I can honestly say that it was a team effort,' said Jack. "Every single person in the team helped me and gave me advice so we've all won this title."
It is obvious that Jack loves his job and he has this to say to anyone who may be considering becoming a chef:
"You will find no other job like it. It's a tightly knit team – like a family. My colleagues are like my brothers and sister because we spend so much time together. As for Wilson Vale, it's about family values rather than company values. I never feel that I am on my own as there is always support and I know that I can pick the phone up to anyone at any level."
Athina Vasileiou worked seamlessly with Jack during the Cook and Serve Challenge. Attention to detail is everything to Athina who mirrored and complemented his dishes with her choice of table setting, cocktails, beverages and the personal and informed service she provided.
Little wonder that she walked away with four titles on the day – Best Food Service, Best Cocktail, Best Beverage and Service Champion.
According to Athina, the most enjoyable aspect of her job at College Court is that every day is different.
"I love the fact there is such a diverse client base at College Court and I have opportunities to meet different people from different backgrounds and chat to them and to be creative in so many ways," she said.
Athina's responsibilities as food and beverage manager include everything from managing front of house services and finances to casting her creative eye over the finishing touches to ensure impeccable presentation and quality standards at College Court.
With a degree in criminology from the University of Leicester, she discovered her love of hospitality when working as a waitress while a student.
"After graduation, I followed my heart and went into hospitality," she said.
"Like Jack said, it's the strong connections and communication we all have here that makes my work so enjoyable and fulfilling."
Huge congratulations to Jack and Athina, and also to our other winners for their fantastic performances on the day: George Midgeley (Best Main Course), Alex King (Best Starter) and Anthony Millward (Best Beverage Selection).