Storm restoration doesn't miss a beat during COVID-19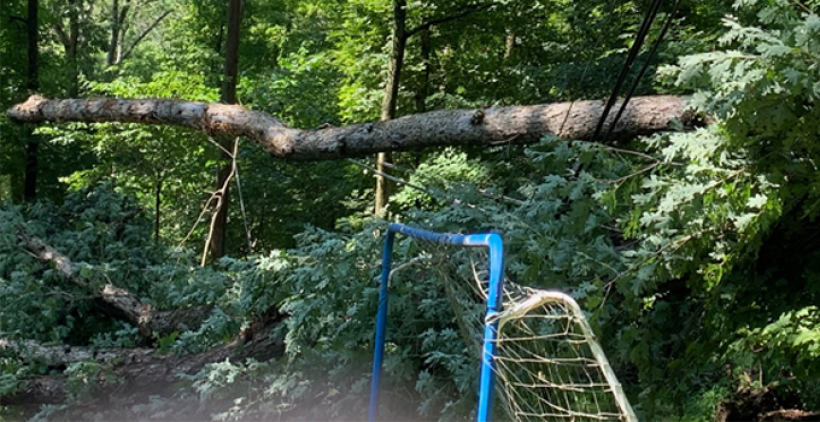 On July 11, Dan Hawk, manager of Electric Distribution Overhead, was doing the job of being a dad. He had taken his two young boys, ages 6 and 4, out for a little weekend camping trip in a wooded area behind his house. The day had been a lovely Saturday, warm with a refreshing breeze, but things were about to change.
Hawk's cellphone rang at about 7 p.m. A family member heard a bad storm was coming, and told him he better look at the radar. "We packed up and headed back to the house," he said. Once the storm hit, Hawk saw how bad it was and went right to LG&E and KU's East Operations Center.
"There were a lot of branches on the roadways and trees blown down across the power lines," said Hawk. "There were trees down in easements and behind homes."
Local news outlets reported there were several trees down in the east end of Louisville, with wind speeds reaching 50 mph at Muhammad Ali International Airport. Lightning struck a tree that had overturned and was on fire on Minor Lane.
"My job is to make sure we have the right resources in place, the right people to manage those resources, and we have a good plan of attack," said Hawk.
In all, the storm knocked out power to more than 38,000 customers, broke six poles, damaged 10 transformers, and took down more than 230 wires.
"I can definitely relate to being without power," said Hawk. "When you have a storm like this, it's a team aspect. From the operational side here, both the field crews and business partners, management team that was able to support them, the safety team and those at DCC, it's everybody stepping up and doing their part."
The storm was by no means a record-breaking event by LG&E and KU standards — where the biggest storms on record caused hundreds of thousands of customers to lose power — but in a time of COVID-19, crews must face extra challenges. For example, employees are limited to one person per vehicle, if possible.
"It (COVID-19) definitely presents its own challenges," said Hawk. "When you show up at a job site, you have four trucks for four people, where normally we'd have maybe two. Parking can be an issue, and you're doing larger traffic control because you have more vehicles to work around. Overall, I think we've gotten used to the COVID-19 requirements. Everyone has their masks and recognizes the importance of social distancing."
Mike Sena, manager, distribution system operations, helped respond to the situation at the Simpsonville Distribution Control Center (DCC). He praised everyone involved in the response. "Folks who responded to the storm did an extraordinary job working through the night to isolate and restore as much as they did," said Sena. "They were extremely productive in a situation that was abnormal. There's something about a line tech, that when there are lights out, that drives them to get those lights on. They're hungry for it, and it makes them proud to put the wire up and get the lights turned on."
By Sunday night, all but a couple hundred of the 38,000 customers who lost power late Saturday had their power restored.
When Hawk got home on Sunday, he returned to two happy campers. His two boys had their tents set up in the basement and had "camped out" with Mommy. Hawk plans to take them camping again soon, and next time, hopefully, the storm clouds will stay away.